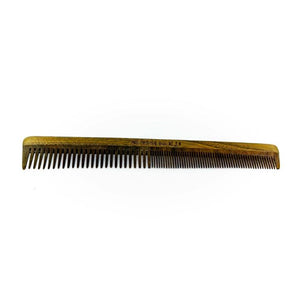 Dual Threat Wooden Comb
This green sandalwood comb is the remake of a timeless classic but with some Neter Gold flare added to it. With two coating options available, you'll fall in love. Now it's time to take back control of your hair.
Which coating do I choose?!
Bee's Wax: Choose this coating if you: A) do not desire to have 10 Herbal Oils in your hair because you either have a routine you love or are allergic to any of the oils or B) Prefer the moisture-locking / hair holding effects of Bee's Wax.=

Oil Infused: Choose this coating if you: A) would like to additionally coat your hair in 10 Herbal Oils on top of your already amazing hair care routine or B) would like the hair growth stimulating properties of the oils.  Infused with: Olive Oil, Grapeseed Oil, Sunflower Oil, Golden Indian Castor Oil, Jamaican Black Castor Oil, Argan Oil, Jojoba Oil, Coconut Oil, Flaxseed Oil, & Fir Essential Oil
Size: 7.5 Inches
How to care for your comb:
1. Don't leave it in water or wet.
2. Keep out of direct sunlight.
3. Keep out of freezing temperatures.
4. Tell others how much you love it.
5. Store in excess oils (if infused) - Add Extra Comb Oil To Your Cart!
6. Don't let your friends use it because they will take it. 
---
We Also Recommend
---