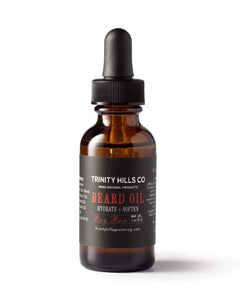 Bay Rum Beard Growth Oil
Grow the perfect beard with the Bay Rum Beard Oil. Its intoxicating scent pairs sweet woodiness with subtle hints of nutmeg and cardamom. Got dandruff? Hemp seed and coconut oil get rid of it effortlessly, so your beard game stays on point.
Ingredients:
Handmade with ethically sourced and fair-traded ingredients; never animal-tested
Natural and safe ingredients: Coconut oil, Grape seed oil, Jojoba oil, Hemp seed oil, Rice bran, Olive oil, Vitamin E
What Does It Do:
Promotes healthy beard growth
Ingredients penetrate deep into your pores to give your skin and hair all the nutrients needed for a healthy look and feel
Less itch and breakage within the first 3 days
How to Use:
Use 2x per day for best results; rub 4-6 drops in palms and massage into beard and skin (use more drops for larger beards)
Best if used after warm shower when pores are open, allowing easy absorption into skin and follicles
Made by Trinity Hills Co. All Rights Reserved. 
---
We Also Recommend
---