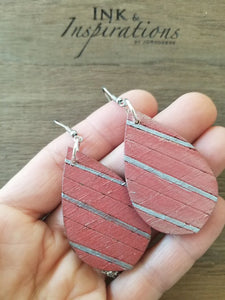 CANDY CANE EARRINGS
*wood dangle earrings
*lightweight earrings
*diffuser earrings
*holiday earrings, Christmas earrings
*size options 40MM,50MM,60MM
*great gift for women
*winter dangle earrings, Christmas truck earrings, holiday earrings

ABOUT THE EARRINGS
Have you been searching for fun pair of Christmas ornament earrings? These lightweight holiday earrings are perfect for the holidays and engraved with a tiny stripes like a candy cane and shine like an ornament. The colors are red, silver and champagne shimmer.

THE LISTING
This listing is for 1 pair of walnut wooden Christmas ornament earrings. These wooden earrings have been laser engraved using recycled off cuts of hardwood whenever possible and transformed into a fun holiday accessory.

THE SIZE
These wooden dangle earrings are lightweight and easy to wear. The 50MM (shown in picture) is a great average size dangle earring.

THE DETAILS
This pair of wooden holiday themed earrings is accented with gold or bronze color findings (earring wires). They are laser engraved and hand painted. The earring wires are typically stainless steel. If this is a concern, or you need another type of earring wire, please message me, upcharges may apply.


WHO NEEDS THESE
These wood earrings are great for yogis, yoga enthusiasts, and fits in great with any bohemian style. Women of a variety of ages would appreciate a gift like this, especially given they are lightweight wood earrings. Essential oil lovers would also love these and they make a great essential oil gift.

NOTES ABOUT THE WOOD WE USE
All of these wood earrings are made with recycled wood when possible. We do our best to use the wood we have in stock so wood color, texture and contrast will be affected at times. We embrace the uniqueness and handmade qualities of our wood products and see it as a positive. If you have a particular preference, please message me.
---
We Also Recommend
---