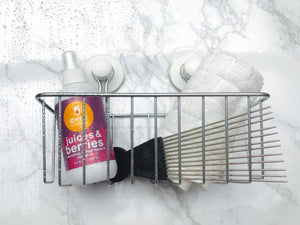 Juices & Berries Hair Tonic Spray
Hydrating Herbal Leave-In 
WHAT IT IS: 100% natural tea-based hair tonic spray

WHAT IT DOES: helps condition & refresh hair, and stimulate the scalp
KEY INGREDIENTS: aloe vera, horsetail, and nettle
Description
Don't let dry hair get you down! Try our 100% natural herbal hydration spray, to refresh and tone hair and scalp with this tea-based humectant tonic in one of three delicious scents.
And Juices & Berries has a juicy, fruity scent that will make your mouth water but never linger too long.
Tea of herbs known to help condition & stimulate the scalp and encourage hair growth
Vegetable ingredients for detangling, moisture and suppleness
Essential oil blend nutritious to the scalp
Excellent for a daily pick-me-up on braids or twists
Keeps locs weightlessly moisturized without a trace of buildup
Naturally preserved
It's like a spa treatment for your hair, and is particularly excellent for low porosity hair types!
How to Use: 
For unbelievable hydration, mist hair with Juices & Berries herbal hydrating tonic before hopping into the shower. The steamy heat opens your cuticle, and the humectant ingredients encourage your hair to attract and hold that moisture. 
Ingredients:
Aqueous infusion of horsetail, lavender, nettle, chamomile, & red rose petals; organic flax seeds; organic aloe leaf extract; vegetable glycerin; lavender oil, orange peel oil, grapefruit seed extract; citric acid, and love! Juices&Berries and Frank Juice varieties also include fragrance oil. :o)
Handmade by Oyin Handmade.  All Rights Reserved.
---
We Also Recommend
---