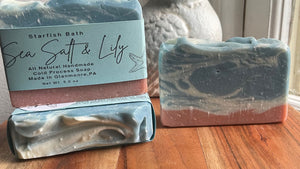 Sea Salt and Lily Soap
You need this fresh and complex fragrance in your house. The first notes you smell are coconut water, pink Himalayan salt, key lime, lotus, rose, and sage leaf, as well as essential oils like lemon and grapefruit. Then bottom notes of seashell, orange blossom, magnolia, and jasmine come in.

Size: 5.0oz 
Starfish soaps are made using a small batch, centuries-old cold process.  The cold process method uses natural ingredients like fats, oils, mica and lye water.  Unlike today's mass-produced cleansing bars with synthetic detergents that dry your skin, Starfish soaps are great for your skin.  Commercial soaps are hard, brittle and harsh.  The oils used in cold process soap feel more like lotion, penetrating the skin for maximum moisturization.   We use all natural oils, FDA approved fragrances and mica colorants.
Starfish Soaps is a very small local business (just Jeff and Donna Gaskill) located in Glenmoore, PA.
Handmade by Starfish Bath. All Rights Reserved.
---
We Also Recommend
---